Things to Consider Before Divorce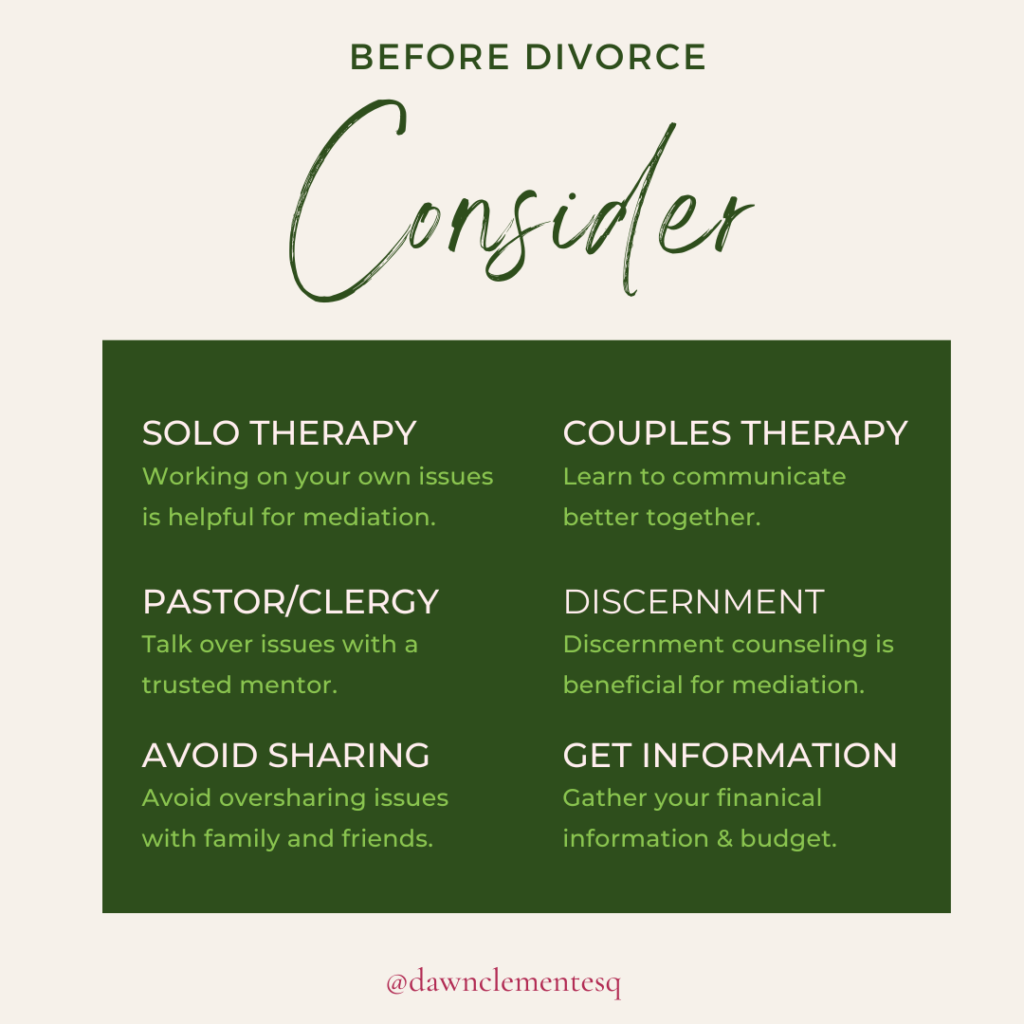 Before starting a divorce, consider taking steps to ensure a smooth mediation process. Rushing into a legal and financial separation is not wise and can end up costing you and your family financial and emotional heartache. Here are a few things to consider before beginning the divorce process.
1. Individual Therapy
Working on yourself before and during the divorce process is helpful for you, your spouse, and your children. If therapy is not right for you, a divorce coach is a wonderful option.
2. Couples Therapy
Not everyone is receptive to couples therapy. However, I have noticed over the years that folks attending couples therapy tend to communicate much better during the divorce and co-parenting process.
3. Talk with your Pastor/Clergy/Priest
Church communities can be valuable during the co-parenting and divorce process. Reach out for spiritual support and guidance to help you through this challenging time.
4. Discernment Counseling
If you or your spouse are not sure whether a divorce is the right path, reach out for discernment counseling before starting the separation process. A trusted therapist can help you discern whether a divorce or separation is the best decision for your family.
5. Avoid Oversharing
Avoid oversharing the intimate details of your marriage or co-parenting issues with family and friends. Our loved ones are well-meaning but often lead us in the wrong direction. Keep your family matters private, and please avoid social media.
6. Gather Information.
Start to gather information about your finances and property, and debts. Having the information you need prior to starting the separation process will help you make wise decisions for your future.
Now is the time to be thoughtful about your actions and behavior. Please take all the time you need to make these important life decisions for your family.
Schedule a Mediation Consultation
If you are ready to plan for your future, mediation works. It is a proven method to help you and your family move forward peacefully. If you would like to learn more about how mediation can benefit you and your family, schedule a call or consultation here: Clement Mediation.
______
NOT LEGAL ADVICE: The information and content provided on this website does not, and is not intended to, constitute legal advice; instead, all information, content, and materials available on this site are for general informational purposes only.