How to Talk to Your Spouse About Mediation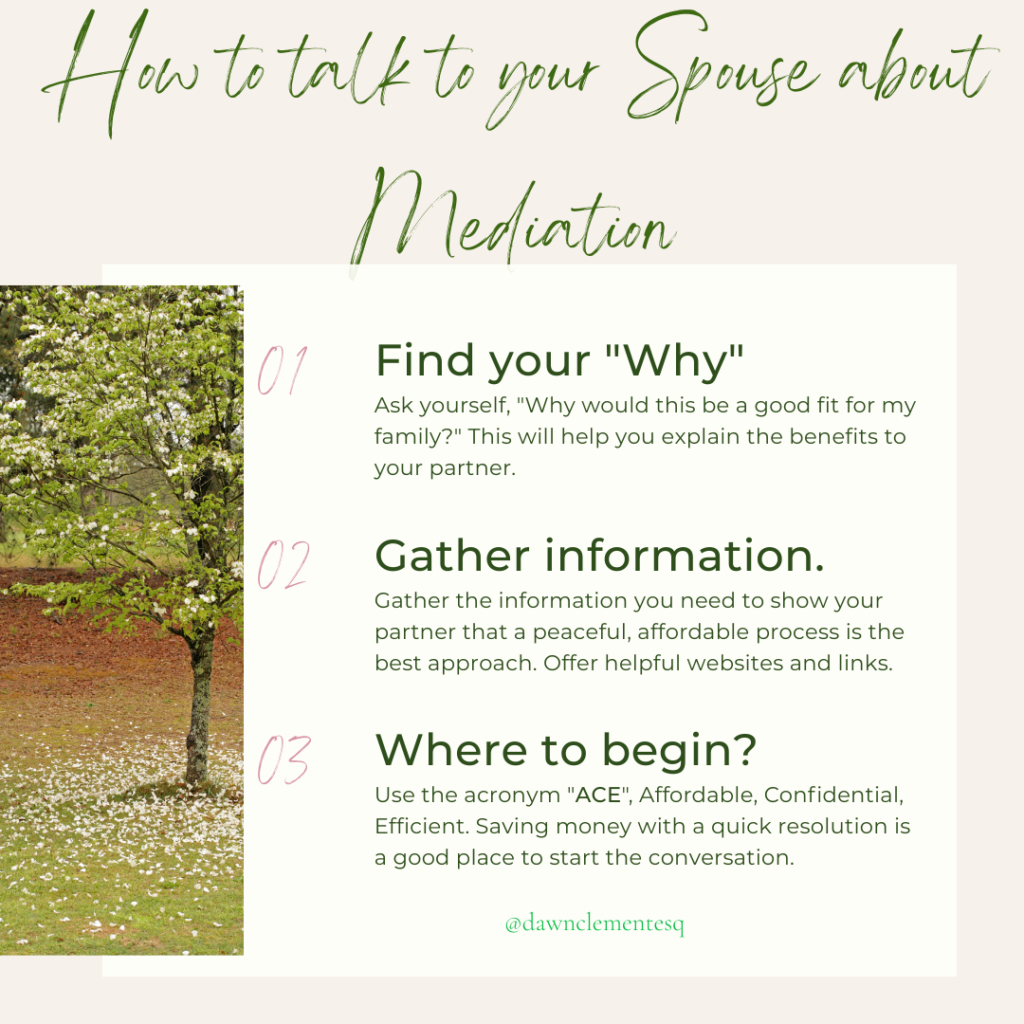 Couples often reach out about the mediation process for the separation, divorce or custody, but are not sure how to approach the subject with their partner or significant other. Perhaps the mediation process sounds like a good choice for your family but having the initial conversation may be difficult. Chances are, it may already be challenging to have conversations about your property, debts, or your children with each other. Even if you are fighting, mediation is a healthy option and can help you find a resolution. Below are a few tips you may find helpful.
Use a script: Here is a sample script you can use to have the initial conversation:
Where to begin? It is helpful to prepare yourself for the conversation about mediation. First, gather the information you need to show your partner that a peaceful, affordable path is the best option for your family. If one spouse is cost-conscious, focus on fees. When most couples research the cost of a court process, it may quickly become clear to your spouse that mediation would be a more affordable option.
Keep it simple. The conversation can be simple. Explaining that it is important to keep the family's finances strong and that fighting in court would not be beneficial may be a good conversation starter. I have often heard from clients that sending a link to my website or another article about mediation can help the conversation begin smoothly.
Be Patient: If the first conversation does not go well, don't worry. Usually, your partner will need some time to do research on their own. Those folks that have never heard of using a mediator may need to gather more information before making a decision to move forward. Usually, they will see the benefits and decide it is the best option.
Benefits. Use the acronym ACE: Affordable, Confidential, Efficient when discussing why mediation is the better choice. Saving your hard-earned dollars for your family, keeping your personal information out of the public domain and obtaining a quick resolution seems to resonate with most people. Why go broke, air your dirty laundry or spend years in court when your agreement can be peaceful and completed quickly.
Give your partner time. I have found that forcing a significant other into mediation rarely has a good outcome. Plant the seed with your partner about mediation and follow up after giving them time to do their own research. Taking the appropriate time you need to make these important decisions will pay off in the long run.
Schedule a Consultation: If you would like more information on mediation, or help with discussing mediation with your partner please reach out here: www.clementmediation.com to schedule a consultation.
The information provided on this website does not, and is not intended to, constitute legal advice; instead, all information, content, and materials available on this site are for general informational purposes only.
Script adapted from Susan Guthrie, Esq.